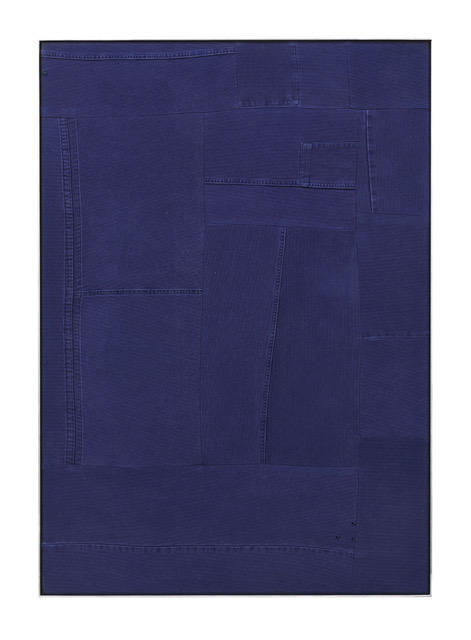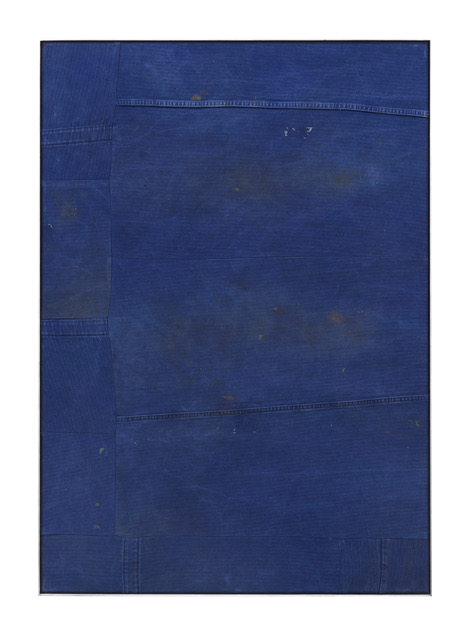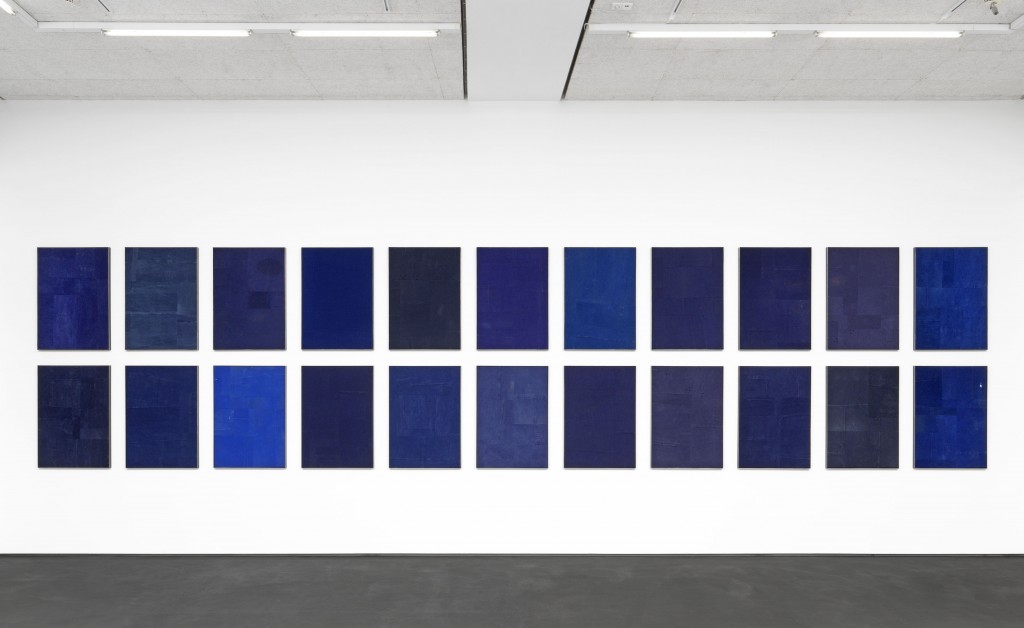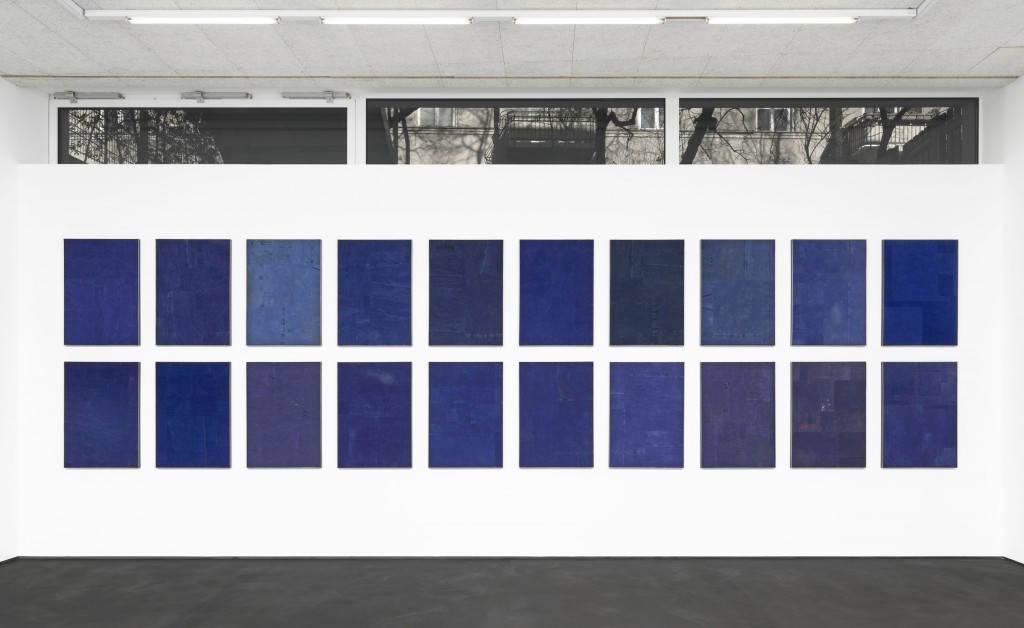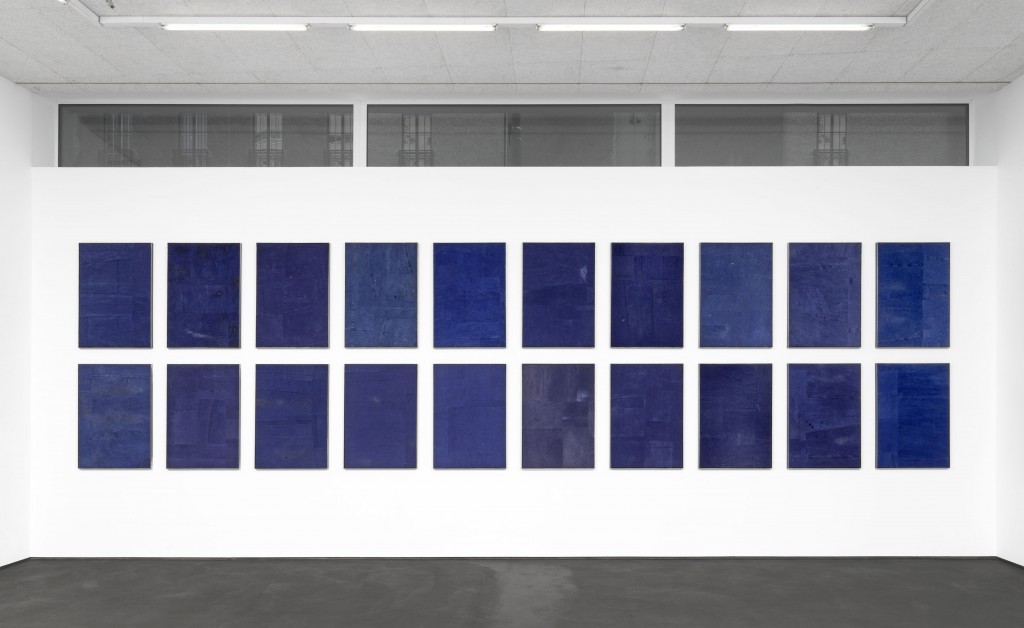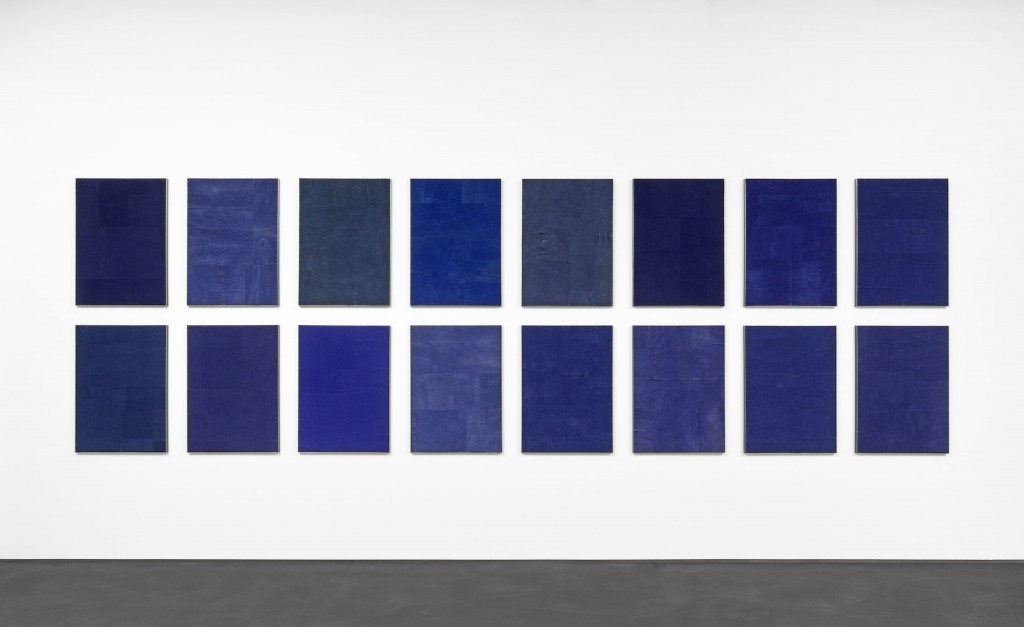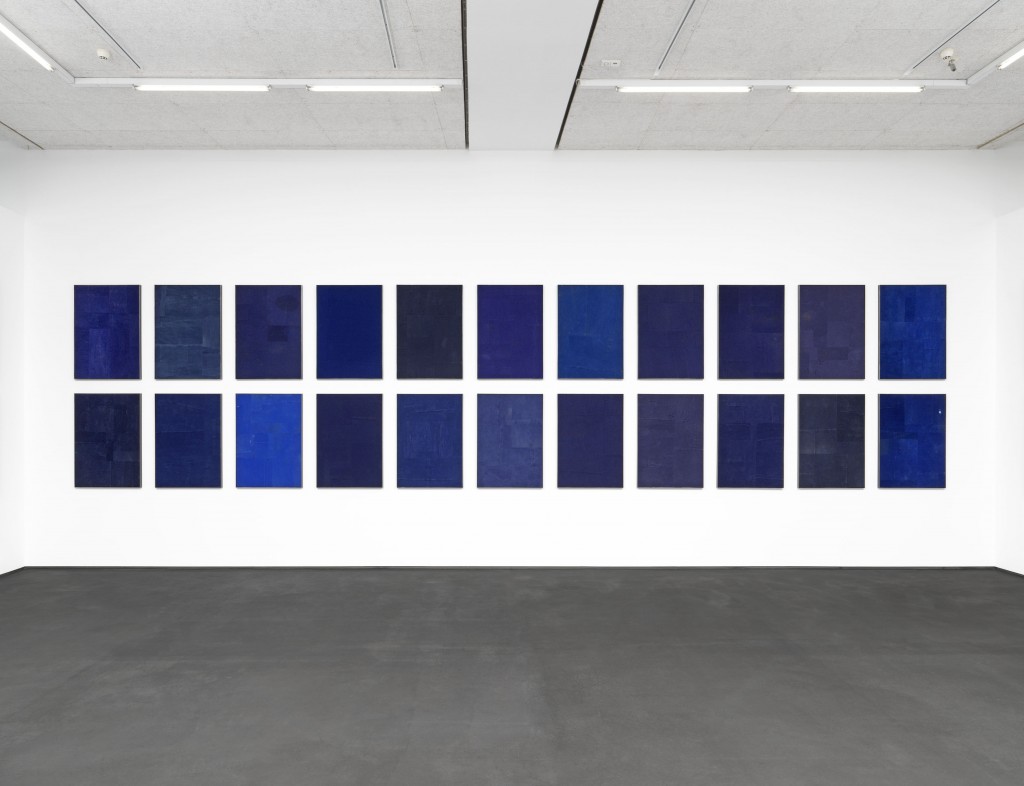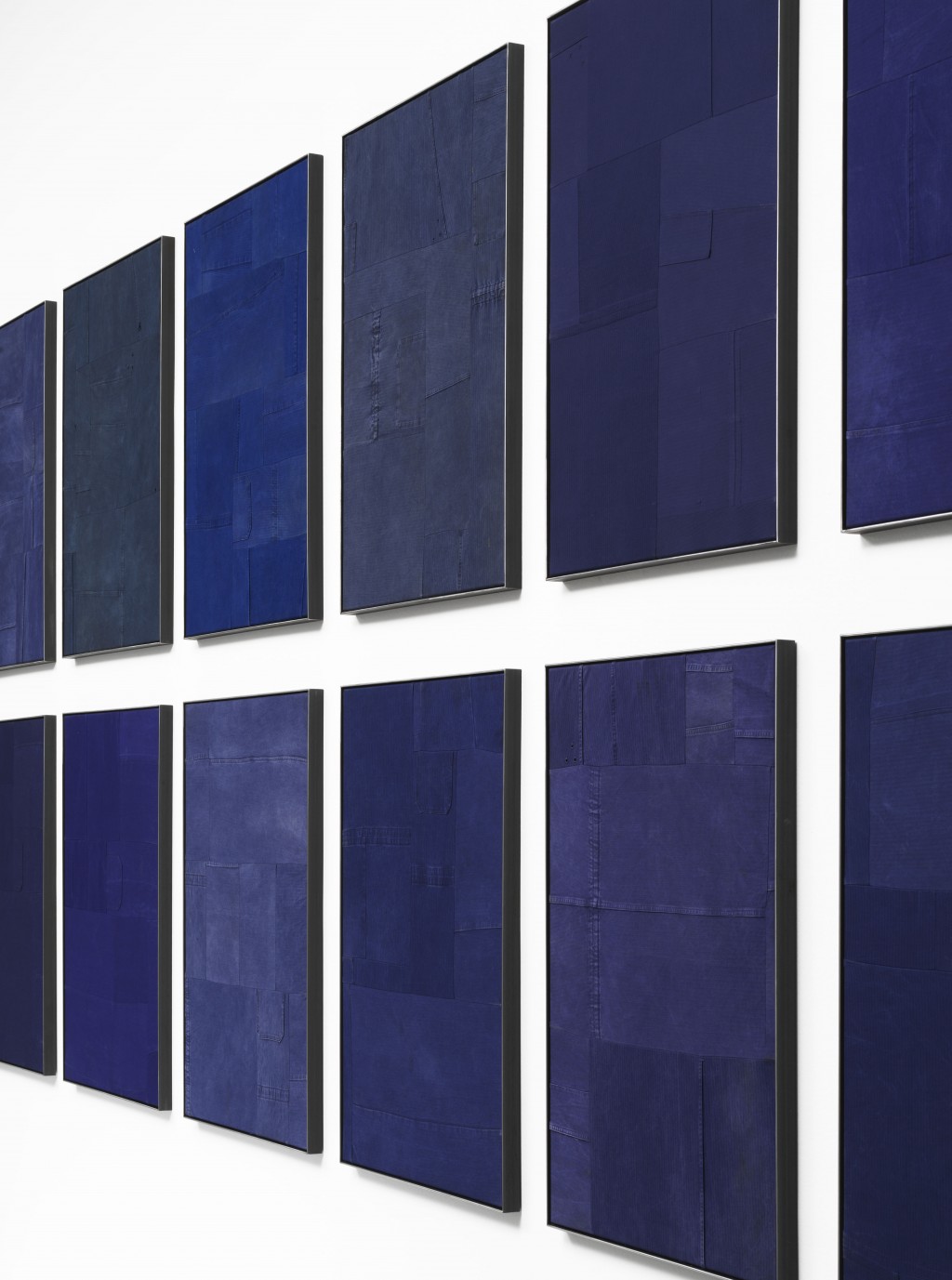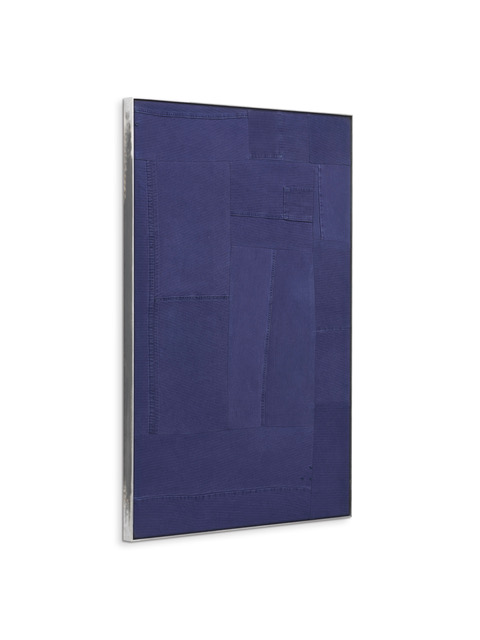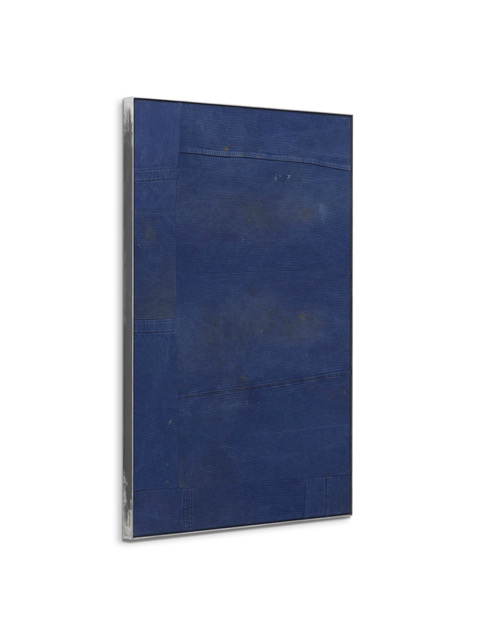 Mounted on the gallery wall is a rectangular grid whose 78 units are made up of blue-dyed cotton, stretched over subframes like so many paintings. If this arrangement immediately gives off a unified impression, further attention uncovers a play of differences—the ensemble's monochrome merely a theme underpinning variations across individual elements. Each canvas is a patchwork, comprising irregular cut-off pieces from second-hand work overalls (some faded and worn, others fresh) which bear traces of their former use. In the smear of dirt across one plane, or a patch of distress where a knee must have been, both the contemplative function in art and the frictionless shibboleth of the digital run up against modern social identity's analog signal, transmitting a remainder from another century. One that is, on what is supposed to be the 'right' side of the digital divide, fast becoming endangered.

Mullan purchases his used apparel from online marketplaces, some of which wholly trade in items recovered from bankrupt companies. Each of his canvases is made from a single overall, cut up and sewn back together so that it can completely stretch across a subframe. Through this procedure, the fundamental organization of the found object is significantly altered, and many of its prior functions rendered obsolete. It is not too hard to discern a parallel, here, to the new economy's reconfiguration of the (post)industrial fabric under the celebrated program of 'disruption', such that entire social topoi are subject (overnight) to new operating systems: interdisciplined. For young people beginning their working life this can be daunting. For older people it can spell redundancy. In light of this, Mullan's statement that the installation might be considered 'a whole company, staring at you' assumes some pathos. Is it a portrait of the past, or a promise from the future?

The above excerpt is from the essay SOFTWEAR by Nadim Samman, published in the exhibition catalog available through the gallery. Please contact Owen Clements, owen(at)dittrich-schlechtriem.com, for information, images and with any further inquiries.